NEWS & EVENTS
MARC GUILLEMOT TAKES PODIUM SPOT IN ROUTE DU RHUM 2022
As Marc Guillemot prepared to set sail in the Route du Rhum 2022, he took a bit of time out to let us know more about MG5 Windrift, how the project came about and what his plans are for the future.
MG5 Windrift is a custom one-off 53ft catamaran for Marc Guillemot designed in collaboration with naval architect Barreau Neuman. She combines performance with a level of comfort given this is a training boat as much as a racing one. However, we looked to find out more about some unique features and styling.
MG5 Windrift is quite a unique project, upcycling parts and reducing its impact on the environment. How important was it for you to reduce the carbon footprint of the boat since you use modified equipment from IMOCA's and ULTIM's?
Reusing parts from former campaigns have a history and are proven, but above all, they have enabled us to achieve several objectives of this project. Firstly, they have helped us to reduce our carbon footprint as we are not manufacturing new parts from raw materials. This has enabled us to equip the boat with quality components both in terms of profile and structure. Finally, we have greatly reduced the overall cost of the whole project.
You are no stranger to building race campaigns, tell us about the process, how you chose your suppliers and more about the Jefa Steering and GORI Propeller you have onboard?
To complete the essential equipment of the MG5, it was necessary to acquire some new items, including an engine, propellers, deck hatches, a steering system, glazing, an anchor and a chain.
To make these choices, two criteria guided me: moving towards the best products and favouring those with European origins.
On my IMOCA Safran, I sailed with a GORI propeller, and on several occasions on a catamaran like MG5, I used folding three-blade GORI propellers. It was obvious to equip this new boat with GORI products.
MG5 Windrift is not a pure racing boat as it will be used for team building and corporate days. On that note, what do you think of the Route du Rhum, as this will be the boat's first test against other multihulls and its first transatlantic crossing?
Indeed, the Route du Rhum will be the first real test of the MG5 in offshore racing. The weather conditions that we will have at the time of departure will be difficult. Several competitors are planning to make a stopover while waiting for the depression to pass. [The start was delayed to allow the system to pass]. For the race when it will be possible to play with the competitors, I think I have a boat that performs well enough for there to be a real sporting challenge. We are at least seven boats quite close in the Rhum Multi category, the fight should be lively.
MG5 Windrift went on to complete the Route du Rhum in 16d 17h 51m 6s. 11 hours after the leader.
Thank you Marc for your time and congratulations on your third place finish in the Route de Rhum 2022.
More on the GORI Racing Propeller supplied – gori-propeller.com
More on Jefa Steering – jefasteering.com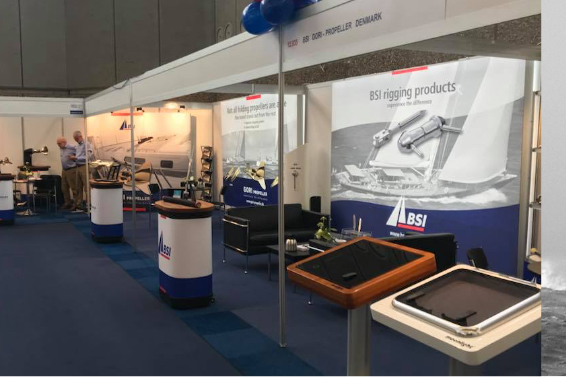 Trusting Mother Nature to carry you safely across the seven seas is a lot easier with top of the line components on board.
Specialist maritime equipment
We design, manufacture and market specialist equipment for cruising, racing, and super yachts. Our goal is, and has always been, best-in-class products with the strength to handle anything a raging sea can throw at them, without compromising control or speed.